Affiliate marketing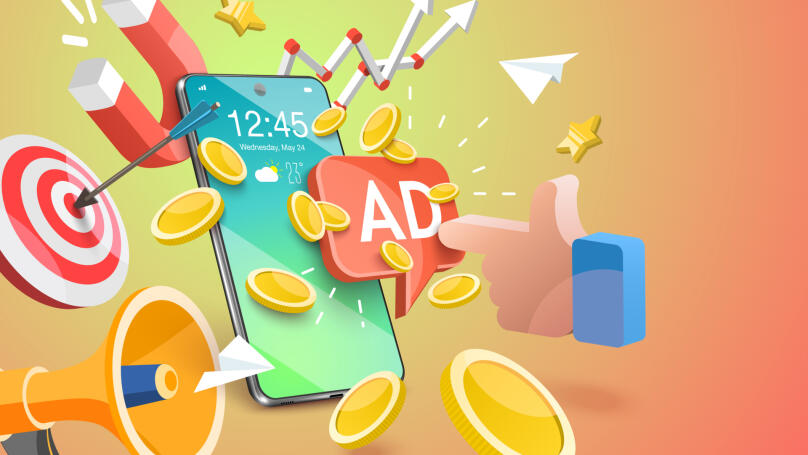 There are many rumours and legends about affiliate marketing, but the fact remains: today, it is one of the most effective ways of making money and starting your own business. This article discusses how affiliate marketing works, how to become part of this field and what programmes are available.
What is affiliate marketing?
Affiliate marketing is a special model of business promotion in which a company develops through a network of online partners, to whom it pays a fee for attracting traffic and clicks on the company's website. Such remuneration is called a commission, which often depends on the number of customers the business has managed to find. Therefore, motivated to get the highest possible remuneration, affiliates strive to get as many people as possible interested in the company's products.
Essentially, the affiliate marketing definition involves a mutually beneficial distribution of revenues. The concept originated in 1943 when Nutralite developed the first multi-level marketing plan that laid the foundation for network marketing. In 1994, network marketing was digitally transformed to become a separate marketing discipline, and unlike traditional MLM (Multi-Level Marketing), it got marketed entirely online. The concept of online affiliate marketing was pioneered and patented by William J. Tobin, founder of PC Flowers & Gifts.
How does affiliate marketing work?
Let's talk about how affiliate marketing works first from the perspective of affiliate marketing companies.
So, a business that wants to promote itself online must attract affiliates. An affiliate can be an active internet user who wants to start an affiliated career, an already experienced website and platform owner, or even a blogger. The company gives the new affiliate their unique link that they must promote on their resources to drive customers to the company's website. Meanwhile, the company monitors these conversions using analytics, tracking the results of each affiliate link. At the end of a month or other fixed period, the partner receives the reward proportional to the number of people who have clicked on the link or bought goods from the company using this link. It depends on the terms of the programme based on which the partner cooperates with the business, but the second option gets used more often, as it is more profitable for the business. 
From the affiliate's point of view, the most important thing is to promote their resources to the extent that placing affiliate links on them provides the company with stable traffic. Thus, you can generate a passive income over time. In addition, the partner, acting as a seller, should make useful acquaintances in the network and persuade users to buy from the company. To enhance the effect, they can place banner ads, targeting, articles, and email newsletters to their subscribers. Therefore, it means the partner is the one who undertakes the promotion of a particular product. They earn money from it but don't have to worry about delivery, development, and other business issues.
For an affiliate to receive their reward, the following must happen after the affiliate link gets placed somewhere:
The client experiences interest and clicks on the unique link.
The client purchases something in the shop to which the link leads.
The affiliate network (company) registers the transaction made by following the link of a specific affiliate.
The partner gets their share — from 5% at the start up to 50%.
You get a cash commission. 
How to start affiliate marketing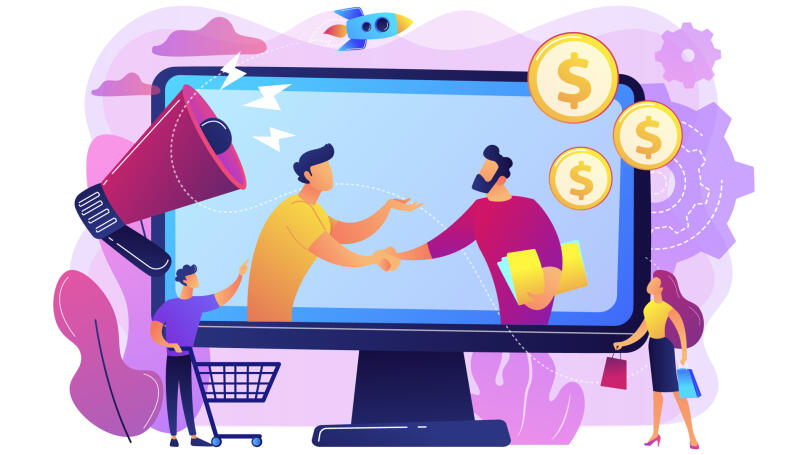 It is easy enough to join affiliate marketing and become an affiliate:
Step 1. Decide on a niche
It is easiest to promote a product that is of interest to you personally. For example, it is unlikely that you could successfully market a sports nutrition product if you don't even go to a fitness centre. Focus on your hobby: What can you do well? What would you like to use yourself? What is your lifestyle?
Step 2. Consider the companies within that niche
There are over a thousand different affiliate programmes on the market today, but not all of them will bring you a real profit. Very often, companies that offer excellent and useful products provide a very low commission of 3-4% due to their high demand. On the contrary, companies whose products are questionable give high commissions of over 20% to attract partners at least that way.
Look for a ratio of product quality to the commission. If you are interested in a particular brand but don't know if it offers an affiliate programme, contact it directly and find out. You can also do a simple Google search and look for current affiliate programme listings, which are getting published in specific communities and websites. There are also specific platforms for affiliate marketing, for example, ShareASale or impact.com.
Step 3. Choose the main channel to attract traffic
The most popular mistake for a beginner in affiliate marketing is to try to reach as many channels as possible, from Facebook to Pinterest. Nevertheless, from the get-go, it's better to focus on one, at most, two channels so that you can spread your efforts and resources evenly between them. So, first, decide on a key platform — all the others where you have accounts can be additional channels, redirecting users to the main one.
Organic traffic from search engines is one of the most effective ways to generate passive affiliate income. But getting your website or blog to the top of search engine results will require SEO knowledge and a lot of practice. It's also important to plug in and monitor Google Analytics to understand which keys work best in the case of your platform and the source of where you are getting the most traffic. 
Step 4. Start creating killer content
Quality content is the key to success in affiliate marketing. It's not enough to "throw" your affiliate link on a forum and have tea. As a business representative — and in a sense, a businessperson yourself — you must engage the user in the life of your brand, tell them about it, get them interested and convince them that the product is what they need.
Content can be textual (long reads, tutorials, checklists) and visual (videos, a series of photos, and infographics). The main thing is that it should be of some use to the client, for example, teaching how to use the company's product correctly. Also, don't forget to consider the specifics of your chosen platform: if it's Instagram, you should focus on visuals, etc. With content, you'll capture maximum traffic from Google and other sources, get them interested in your niche, and then you can give an affiliate link! Not the other way around because a cold audience won't click through to anything.
Step 5. Promote, promote, and promote again
Once you are used to releasing content regularly on one channel, you can get started by plugging in the other auxiliary channels. Consider these in terms of elements of your wider strategy, i.e., still concentrate on one, but start to expand. It will also help you to promote:
Connecting contextual, banner and any other advertising that meets the characteristics of your audience and niche;
Interacting with subscribers and other users through comments and likes;
Interactive activities — e.g., a raffle for one of the company's products;
Launch of a mailing list;
Direct online sales and introductions to customers through private messaging.
How to start affiliate marketing with no money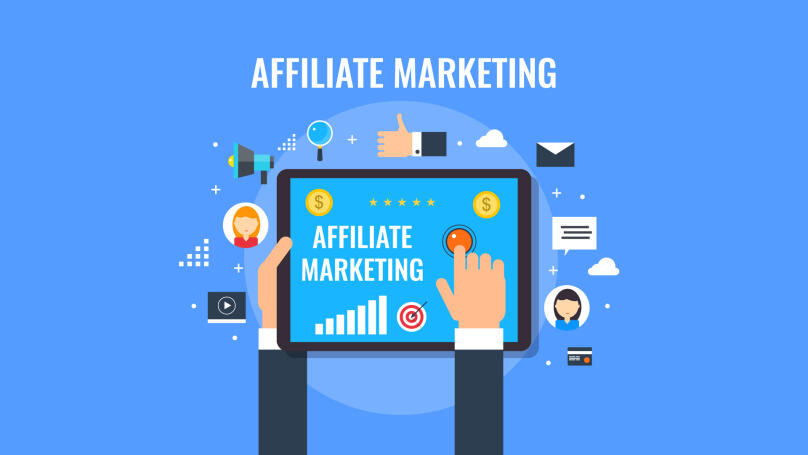 How do I start affiliate marketing with no money? Exactly as described above! You can do it without any investment or budget because you don't have to buy anything, you don't have to rent a space, you don't have to advertise, etc. You can promote your link completely independently with the help of your blog. Of course, with paid targeting connected, it will be easier to promote your company, but it is not a prerequisite. Anything other than having your promotion platform is optional.
Thus, affiliate marketing allows you to earn without investing anything but your time. So, you can do it in parallel to your main job and not be afraid of financial risks.
The best affiliate marketing programmes
There are many affiliate marketing programmes to choose from, and you should base your search on your needs, goals, and preferences. However, the experts and marketers themselves consider the best programmes as of 2022 to be the following ones:
Amazon
Amazon's largest platform programme is perfect for beginners in affiliate marketing. With its wide marketplace and cosmic range of products, you are sure to find something suitable and also automate most of your business processes. But, admittedly, the competition here is high and the commissions are not.
MyLead
MyLead is not a company, but an aggregator of affiliate offers that belongs to the CPA category. It pays for clients to perform targeted actions. Its counterpart is Leadsark. Here you can not only take an affiliate marketing course but also become an affiliate of one of the 3000 largest international companies from all over the world, from Trivago to Disney. Of course, the rates, conditions and commissions here vary from each other, so you need to look and study everything carefully.
ClickBank
This affiliate marketing platform has over 6 million digital products in over twenty categories and 200 million affiliates worldwide. On top of that, this programme offers commissions as high as 75-90%! Payments here are regular and made in a way that is convenient for the user. However, it is more suitable for experienced affiliate marketers because even though there are freely available training materials, it is still quite a complex and competitive network.
 
The list of the best affiliate marketing websites is quite long, but you may want to check these out first.
Is affiliate marketing legit? 
Absolutely! Affiliate marketing is 100% legal in most countries. Of course, legislation tends to change, so you may want to check what the law says about affiliate marketing in your country, just in case. But we are confident that affiliate marketing is probably available there, as no business will deny its benefits to all parties involved in the process. So, the value of affiliate marketing to the global economy is undeniable.
Is affiliate marketing worth it?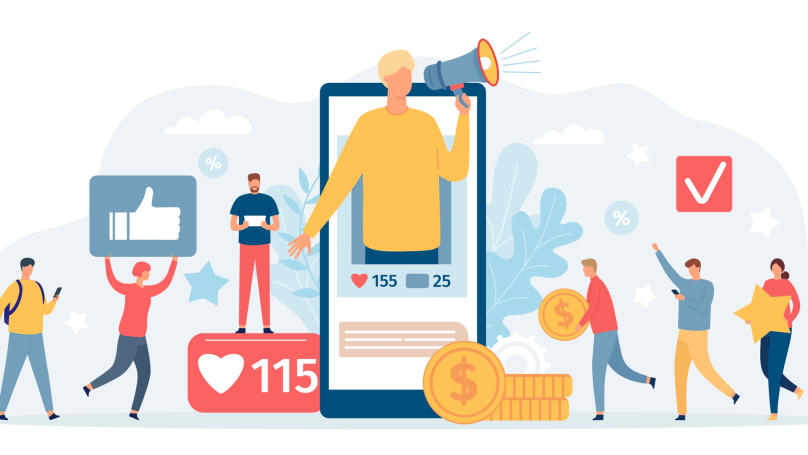 Affiliate marketing not only allows you to create a source of extra income, which is never redundant, but it also allows you to fully support yourself with the right amount of effort and time. Therefore, affiliate marketing is worth considering if only because it:
Is virtually risk-free. You only must pay companies if you want to attract traffic and clients and build up your affiliate network, i.e., to attract new referrals (as in network marketing). You don't need to invest at the start, so the only thing you lose if you get the wrong company or target is your time.
Works for everyone. To succeed in affiliate marketing, you only need skills that you can learn by yourself through experience, videos, or an affiliate marketing course. Furthermore, anyone can do it, regardless of their current profession. Indeed, there are no professional barriers to affiliate marketing.
Offers flexible hours. Thanks to the internet, you can work from anywhere in the world at any time convenient for you: on holiday at the seaside, on the subway on your way to work, during your lunch break, at night from the suburbs where your friends have invited you to a birthday party, etc.
Allows you to create a passive income. With responsible affiliate marketing and regular development, one day, you will notice that traffic comes to your link all by itself without any effort on your part. Consequently, it's a win-win way to make money with affiliate marketing.
Gives you business experience. It is a fantastic option for those who have long dreamt of beginning a start-up but were afraid of the lack of experience. Well, with affiliate marketing, you can get plenty of it and learn various digital marketing tools and soft skills.
Affiliate marketing salary
In the US, affiliate marketing offers the highest earnings — on average, affiliates earn $80,000 per year or $41 per hour. At the entry-level, earnings are around $52,000 annually, while top affiliates make as much as $111,000 per annum. On the other hand, the average affiliate marketing income in India ranges between Rs 10,000 and Rs 660,000 per month, with average annual earnings of Rs 300,000. However, some companies, like Flipkart, allow you to earn more when you sell "high tickets."
Of course, income in any country gets influenced by many factors, ranging from education to the programme chosen. Indeed, most affiliate marketers offer career development and training to their associates, a kind of ranking, as their income increases. Thus, according to experience, the average salary level varies as follows:
Newcomer (less than a year of experience) — $35,700;
Young Specialist (1 to 4 years of experience) — $46,000;
Intermediate specialist (5 to 9 years) — $61,000;
Experienced (10 to 19 years) — $82,000;
Top of the career (20+ years) — $112,180.
Affiliate marketing quotes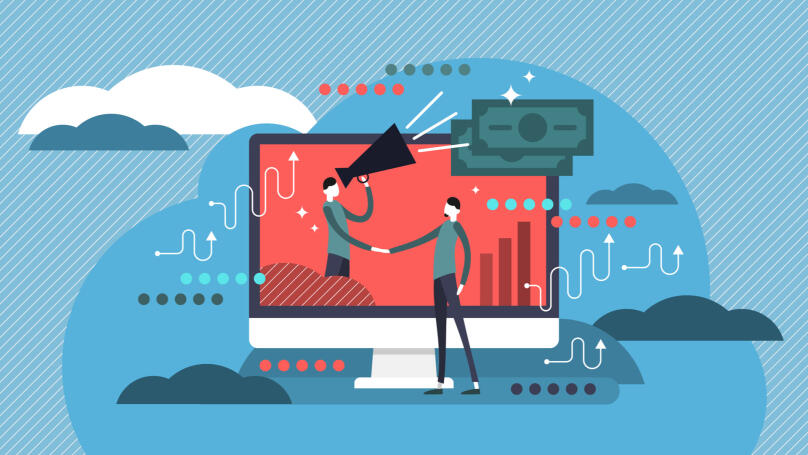 Various professionals, businesspeople, and marketers often comment on affiliate marketing. So, here are some of the most famous quotes that may motivate you or help build the best way to start affiliate marketing for you.
"Affiliate marketing is an excellent opportunity if you truly believe in the value of the product you are selling. Because many times, you can make money off of something you would probably recommend anyway." — Neil Patel, Neil Patel Digital 
"Many people who get into affiliate marketing do so with the same mindset: making money first, and thinking of their audience second. That's a recipe for disaster, or at least lousy results." — Pat Flynn, CEO of Flynndustries LLC
"If you don't find a way to make money while you sleep, you will work until you die." — Warren Buffett
"Organic reach is so important because those who click through to your page on their own are a more qualified lead and prospect than the one you got through intrusive advertising." — Gary Vaynerchuk
Affiliate marketing books 
In addition, we recommend reading the following set of books to understand better how to do affiliate marketing:
"Affiliate Marketing: Secrets" by Chandler Wright. The book is a starting point for those new to affiliate marketing, as its author gives a detailed guide on building a career in this niche, from covering trends to personal advice. You'll also find examples of affiliate marketing explained in simple terms. 
"From Nothing: Everything You Need to Profit from Affiliate Marketing, Internet Marketing, Blogging, Online Business, e-Commerce and More… Starting With <$100" by Ian Pribyl. The author of this book got into the internet business when he was just 16 years old, and within a few years, he had achieved complete financial independence from his parents. This book is a guide with practical advice and autobiographical inserts to help you visually build your career path.
"Web Copy That Sells: The Revolutionary Formula for Creating Killer Copy That Grabs Their Attention and Compels Them to Buy" by Maria Veloso. In this book, the author parses marketing communication from the perspective of today's content consumers and businesses. Here you'll find current methods for advertisers and entrepreneurs that use innovation and technology to make your job much easier.
"Becoming A Digital Marketer: Gaining the Hard & Soft Skills for a Tech-Driven Marketing Career" by Gil & Anya Gildner. A book for true marketers that will help you create and fill in websites, track analytics, set up SEO by yourself, run quality email campaigns and, in short, use all the existing and practical online tools for affiliate marketing.