Some believe that every individual is born with certain talents. However, they do not always reveal themselves - these talents must be found to be recognised and nurtured, like plant seeds.
After all, nothing happens without any effort. To discover your latent talent, you have to create a suitable environment to find it. The best ones are to be found within a family environment, where you are surrounded by people you trust who make you feel supported and as relaxed as possible. No wonder it is during childhood that talents frequently emerge! Nevertheless, in adulthood, you do not need to run to your parents to achieve this - you can create a perfect environment yourself to identify your talents. How exactly? We will show you how!
We have already discussed with you a variety of different ways to recognise what your purpose and life's work are. For example, questionnaires, lists of questions, tests, and skills analyses. However, if you still doubt your choices or want to be certain, let us try another way - meditation.
The meditation process enables our mind to move from a state of work and information processing to a state of rest, which, as science has proven, is accompanied by a completely different brain rhythm. During a meditative state, a person not only rests and recuperates their energy, similar to what happens during sleep, but they can also find answers to their questions because the mind is no longer hampered by information noise and other distractions. However, not to be confused with esotericism and pseudoscientific disciplines - we are talking purely about human physiology and regulating your thoughts by controlling your own body.
Let us start meditating!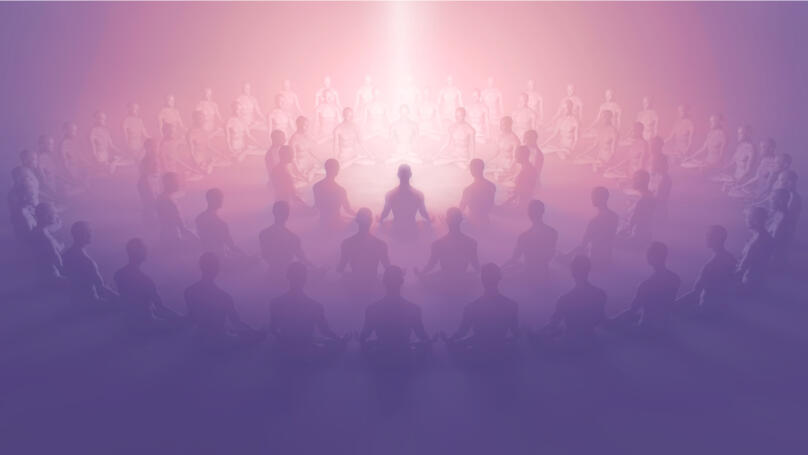 To make this easier for you, the meditation is broken down into steps:
First, find a quiet and peaceful place where you will not be disturbed, and then sit down (preferably on the floor and in a lotus position, as in yoga). The back and spine should be straight, and you should be able to breathe freely without feeling any muscle tension.

Slow down when you are breathing. Inhale through your nose, and exhale through your mouth, pursing your lips as if you are trying to exhale air in a trickle. You do not have to count seconds, as most meditation practises say. The main objective is to breathe slowly and in a way that makes you most comfortable. The exhalation should be twice as long as the inhalation!

When you feel that your mind is in a peaceful state and unwanted thoughts have ceased creeping into your mind, it is time to connect to your imagination. Imagine that you are sitting in a large green meadow surrounded by people, from relatives to friends, whom you trust and who are always welcome.

Watch them. What are they wearing? What jewellery or accessories do you notice? What hairstyles do they have, and what fabrics are their clothes made from? For example, you see your father in a business suit nearby because he is a company director. Which best suits his personality. Incidentally, who is sitting nearest to you from your relatives, and who is further away? Do not forget to depict yourself similarly!

Imagine that it suddenly starts to rain heavily. What expressions do the faces of your loved ones have? What are they starting to do? For example, your father swears and jumps up, and your little sister laughs and throws her hands up because she loves the rain.

Tap into the emotions of those around you, but remember that these are not your emotions - they are someone else's. They belong to other people, but you can capture them, track them, and feel them as if they are expressing them right in front of you.

The rain stops, and the sun slowly appears in the sky. All the people around you go about their business, leaving you completely alone. You have nowhere to go. So, you just sit there and do nothing. Feel your loneliness, even if you feel longing and anxiety, and then think: how would you like to ease this loneliness? Who would you follow? What would you do immediately to make it seem easier? Where would you go?
In moments of solitude, people connect with themselves, including their needs and desires. Although the feeling of isolation must be intense and, perhaps, long-lasting, it may take 15 minutes or several hours to complete the meditation. So, give yourself as much time as you need. Furthermore, in Lectera's article "6 Ways to Incorporate Mindfulness", you will discover simple ways to realistically perceive yourself and the world, which will help you quickly choose a new life path.