Ever dreamed of having your business do all the work for you, 24/7?
Literally: not only attracting customers, but also convincing them of the benefits of buying, presenting the product and, in the end, successfully closing the deal. That would save you loads of hassle, from reducing the sales department's budget to increasing profits.
Well, the good news is that it's entirely possible! After all, that's precisely what the great marketers invented the sales funnel for.
The automated sales funnel is the process of promoting users from the moment they get introduced to your product to the moment they buy it. At every stage of this process, the potential customers who are least interested in your product "fall away," hence why it is called a funnel. The "auto" part in the word means that each stage of "warming up" the customer (introducing them to the benefits of the product, comparing your product with other offerings on the market, closing pains, in other words, their queries and problems, and so on to the sale) is set up automatically, rather than being done manually.
Why is this necessary? That is simple: no matter how good your marketing is, when you advertise your product and bring potential customers into the shop, they are all at different stages of readiness to buy. Some are already confident that they want to buy exactly your product and don't hesitate to go to the checkout. On the flip side, some customers need time, because they got to you by chance... To avoid losing such customers, and make everyone happy, you need a sales funnel.
Creating an automated sales funnel is a godsend for business. It allows you to solve several important problems at once:
customer retention - Reduce and sustain the outflow of customers;
increase conversion rate;
to extend the life cycle of the client;
reduce spending on advertising and other customer acquisition strategies;
optimise your marketing and sales process.
Resultingly, it allows you to increase your company's efficiency, managers, and the product itself. The automated sales funnel will independently guide the customer from getting to know you to the stage of making a purchase. Of course, you are unlikely to abandon sales managers completely, but any business can save significant money thanks to the sales funnel. Nevertheless, first, you need to work hard to create and automate it!
The automated sales funnel consists of a product matrix; in other words, elements that entice potential customers. In turn, the matrix is represented with a lead magnet, a tripwire, the product you are selling, and the profit maximiser, or upselling.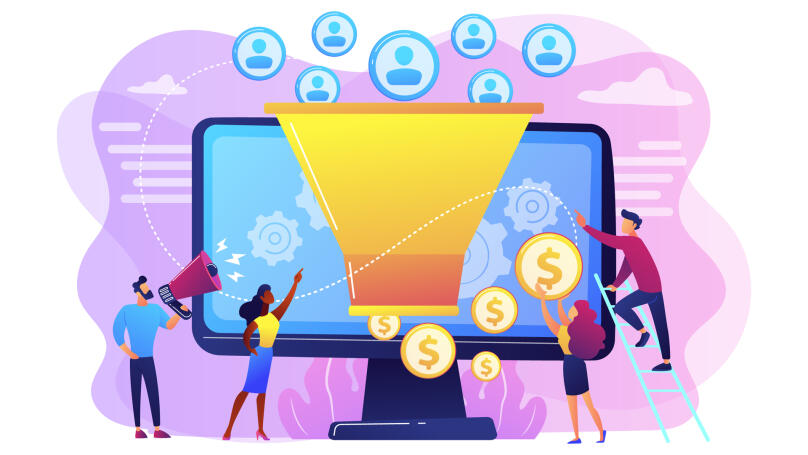 What is a lead magnet?
"A lead magnet" is a free product that introduces you and your products to customers. Automated sales funnels could consist of highly variable lead magnets. For example, it could be a coffee tasting. Or it could be a free course dedicated to political public relations. Or a smartphone wallpaper created by a renounced contemporary artist. In a word, it could be anything.
Nevertheless, this "anything" must directly relate to your product, unique (or at least interesting) and free. The lead magnet brings you leads, that is, future buyers. An example of such a "magnet" is a free product in exchange for the user's email address - you have probably seen such an offer more than once. It is quite a winning formula because this lead magnet's target audience is both you and, for example, college students, mothers on maternity leave, your elderly relatives, that is, a variety of potential buyers.
What is a tripwire?
A tripwire is a one-off discounted offer. For example, instead of an entire home fitness course, you offer the customer one lesson - it costs much less than the main product, gives useful information, casts you in the light of an expert and convinces the buyer of the need to purchase the entire course. Another example is that rather than a whole collection of capsules for a coffee machine you can offer one or two capsules with a specific blend. Instead of offering a series of paid sessions with a psychologist, another example is to offer one free "on trial." Another is instead of delivery charges - free with a small gift (an additional dish, a sweet card, or something accompanying the purchase of goods). The creation of automated sales funnels does not necessarily imply a tripwire, but we advise you not to exclude such offers to customers from your future funnel.
What is the main product?
The main product is the reason that you created your sales funnel.
This product must be more valuable to the customer than a lead magnet and a tripwire combined. The potential buyer (ideally) should be interested in the final product, rather than a free trial period, an inexpensive lecture, or shipping at a minimal cost. That is why selling your main product with specifically constructed lead magnets, and tripwires are your primary goal.
What is upselling?
That is the return of the customer who has already purchased the product to your other products. Upselling is stimulated, for example, by contextual advertising that "catches up" with a customer who has purchased something on your online store, mailing lists from an online store, and personalised offers with discounts during the next visit to the site. The goal of upselling is to increase the average check, influence the next purchase decision, and turn a customer from a "one-time" into a permanent one.
Types of automated sales funnels
Marketing textbooks that proved to be effective in practice classify automated sales funnels according to the following criteria:
By function. You can design an auto funnel to generate subscriptions, participate in webinars and lectures, or directly sell the main product.
By platform. An auto funnel can exist on social networks, chatbots, messengers, and email marketing. Often funnels are built on several platforms at once - this is quite a winning move, because a site user may not visit your resource anymore, but familiarise themselves with your offer, for example, on Telegram.
By complexity. Automated sales funnels can be linear and variable. Linear funnels do not consider user reaction sending the same emails to the entire audience on a mail-string. Variable ones take into account user reaction and send emails depending on their responses.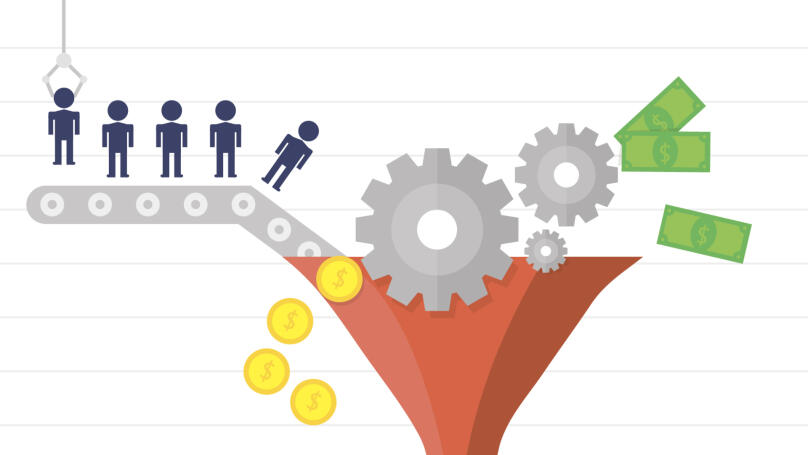 Where are automated sales funnels used?
Despite what the Instagram sales guru may propose, you cannot use the automated funnel for every business. For example, it will not suit a startup that has not yet created and launched a final product on the market (or has not even thought about a product it wants to sell, but already wants to find customers).
An automated sales funnel is often used in an online business or in a project that implies offline and online communication with customers. It works great for selling information services (courses, lessons, webinars), and attracting customers to online stores of any profile.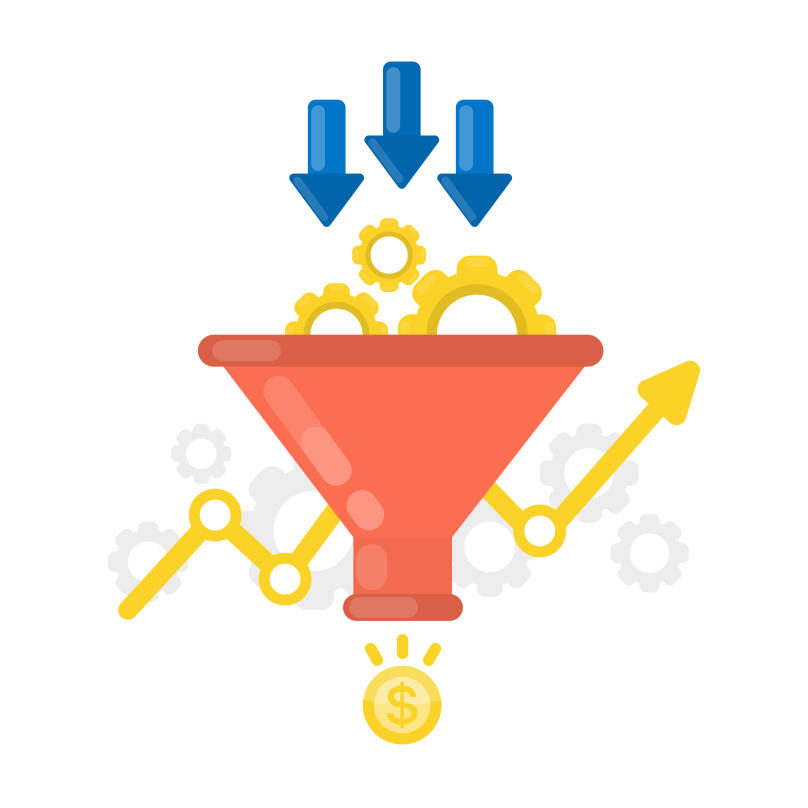 How do I create an automated sales funnel?
You will need several components to implement an automated sales funnel. First and foremost, you must have a website, site-traffic, and a dozen communication and analytical tools. Let's examine each component in more detail.
The website is a crucial point that influences future sales. Firstly, you need to create a high-quality resource. It must not have empty pages with just a name, buttons leading nowhere, and unclickable links. Then, fill your site with content because this is the key to competent SEO-promotion and a successfully functioning sales funnel. Remember that with the help of a well-made website, we get ready-to-buy leads.
Traffic - is the material automated sales funnels work with. To attract visitors to an existing site at this stage, you can use contextual and targeted advertising on third-party resources, SEO optimisation tools and SMM.
Communication tools are special programs that make the funnel work in principle, and services that help evaluate its effectiveness. Ideally, it would be best if you had between three and five of these services. To get started, you need a system that will store customer data. The most popular ones are AmoCRM and Bitrix 24. It would be useful to purchase (or try out for free) end-to-end analytics services, such as Rick or Roistat, which are well-known in the CIS countries. To work with email newsletters (that is, actually with leads), MailChimp or UniSender will be useful, to create pop-up windows on the site and online chats - JivoSite and Chatra, to launch push notifications-SendPulse and Push4site.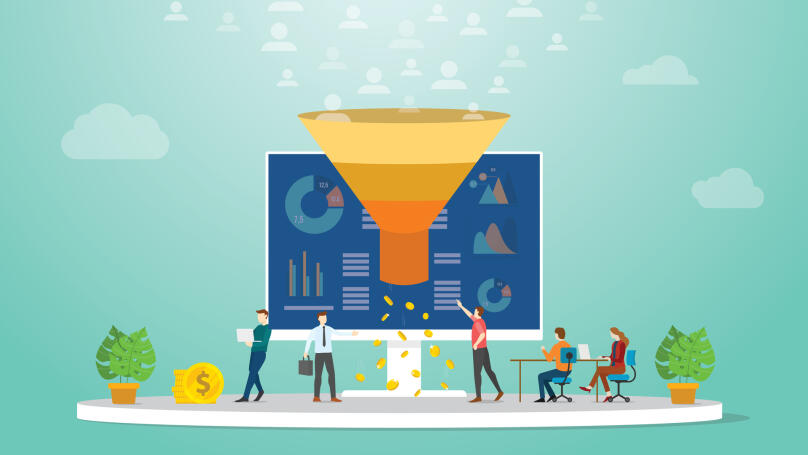 How you can set up an automatic sales funnel
Before you start setting up, you will have to analyse your website, the main product you will be selling, and your competitors. Are your sales stable now, are you happy with your business in this aspect? How do your customers feel about your product, how well developed is it? If the site is not yet ready or you are just starting to fill it in with both products and content, it is better to postpone the launch of an automated sales funnel. Those who answered both questions positively and extensively can move on to setting up the sales funnel.
Steps in setting up the automated sales funnel
Develop a scenario map. What scenarios might potential customers follow? Why can they buy your product? Why can they leave the site, refusing to buy? For each user action, you must prepare a response. For instance, if a potential buyer adds a few items to the cart and then clicks the button to close the page, you may receive a pop-up with the text "Leaving already?" Another option is to send them an email containing links to the items they've added to the cart, and offer them a discount. This simple action will help increase sales.
Put all your scenarios in a mind-map, that is a process tree provided in a separate service (for example, the free XMind).
Create a product matrix. We have talked about this at the beginning of this text. A matrix helps a user to navigate through the funnel.
Fill the funnel with content. As a lead magnet, you can use an article urging people to sign up for the newsletter, receiving a free e-book in return. You can use chatbot messages as a reminder to encourage customers to buy the product as soon as possible. It is imperative to write strong texts for email newsletters, which are ubiquitous in automated sales funnels.
Test the automated sales funnel . A/B testing is an unavoidable point in setting up an automated sales funnel. Launch several variants of the funnel at the same time. Use the above tools to monitor their effectiveness. If necessary, change the initial settings - offer users a new lead-magnet, try to abandon or change the tripwire, create fresh and new emails, and test different sales approaches.
Creating a working automated sales funnel is easier than you think. Use the advice given in this article to start the process today and not be afraid to change the funnel components if certain stages you have relied on do not work for some reason.
This article is written based on Lectera's courses. Do you want to learn more about sales and digital marketing? Or level up your skills with built-in practice tests? Choose the right course.